Durante la Semana de la Alta Costura en Paris, se realizó el desfile de la casa de moda Chanel, asistieron personalidades como Julianne Moore, Katy Perry, Claudia Schiffer, Tilda Swinton, Sofia Coppola, Pharrell Williams y Cara Delevingne, Kristen Stewart.
Entre las "It Girls" del momento estuvo invitada la actriz Argentina Calu Rivero.
El "káiser" de la moda presentó una colección para el otoño-invierno de tonalidades grises, detalles con plumas, con abrigos de tweed entallados, que dibujan una silueta redondeada.
El desfile se realizó debajo de una replica de la Torre Eiffel. La estructura de la " Tour Eiffel de 38 metros de alto", de acero y madera, bajo el  techo de vidrio del museo del Grand Palais.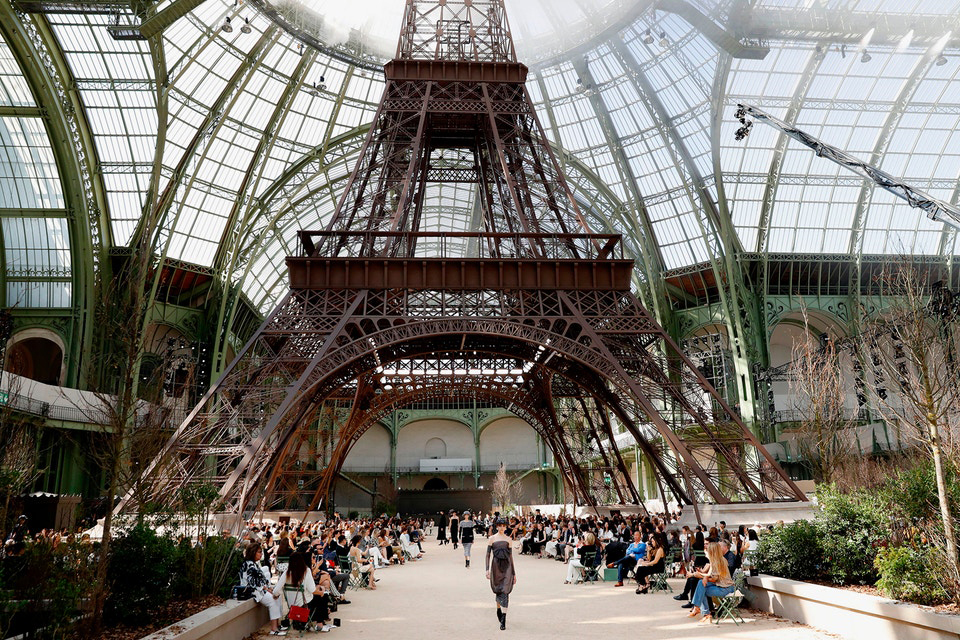 Hats
Sombreros de Bombin y marineros en una gran variedad de materiales dominaron la pasarela. También los sombreros de ala redonda complementaron los diseños.
Boots
Botas de caña alta y botas cortas.
Siluetas globo
Las faldas globo, las blusas y los abrigos con mucho volumen, enfatizaron la tendencia.
Flowers
Las flores marcaron el hilo conductor en las prendas, ubicadas como apliques en los diseños
Accessories
Maxi aros de perlas con un borde en color negro simulando el botón característico de la firma.
Founder & Chief Creative on DRESSTYLE & Just Bee Brand Agency.
DRESSTYLE is Inspiration, Fashion, Style, Design, Lifestyle, Recipes, Fun, Sustainability, Innovation, Branding & Busines.
Take breaks, Drink coffee, Have fun and BREAK THE RULES !!!
Instagram: @yanpiccolo